The North American Industry Classification System (NAICS) is the standard used by Federal statistical agencies in classifying business establishments for the purpose of collecting, analyzing, and publishing statistical data related to the U.S. business economy.
44511 Grocery Stores & Supermarkets
4452 Specialty Food Stores
Recommended Resources in the Campbell Collection


Planet Retail. Full Text. - Restricted
Information on over 1,500 international grocery retailer groups and over 4,000 banners. Restricted to Food Marketing majors; access is by password. Contact the Campbell Collection for more information.
Food Retailing Industry Speaks. Food Marketing Institute. Annual. - Restricted
Campbell Collection Reference (2nd floor) HF5469 .S884
The annual state of the industry report. The report reviews important market trends affecting food retailing and evaluates the industry's performance in sales, profits, margins and a wide variety of productivity measures. It presents detailed information on supermarket operations as well as store-level benchmarks in space, item, checkout, personnel and inventory productivity.


U.S. Grocery Shopper Trends. Food Marketing Institute. Annual. - Restricted
U.S. Grocery Shopper Trends, is the industry source for data and knowledge of the grocery shopper to gain an in-depth understanding of the role food plays in today's society. In addition to industry staples such as trips, spending, formats and channel blurring, learn about the influence of economic pressures and the importance of nutrition, price, meal solutions, food safety and sustainable retailing. FMI published an Executive Summary only.
Who's Buying Groceries. 7th ed. New Strategist Publications, Inc. 2009. - Restricted
In-depth statistics on how much Americans spend on food for home consumption.

The Food Institute's Food Industry Review.
Contains information on food related business, including retail, foodservice, manufacturing, and private labels.

Campbell Collection: Reference (2nd floor) HD9321.4 .F649
Earlier years are available.
Some issues available electronically - Restricted
Mid-atlantic grocery industry directory
Call Number: Campbell Collection Reference (2nd floor) HD9321.1 .M53
Publication Date: 2012
The directory is a comprehensive source for information about the following sectors of the food industry in the Mid-Atlantic market: retailers (including chain and independent supermarkets, drug chains, convenience stores, mass merchandisers and club stores), wholesalers, direct store and specialty distributors, food brokers, manufacturers, warehousing and transportation, equipment and supply, associations and services.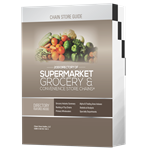 Directory of supermarket, grocery & convenience store chains.
Call Number: Campbell Collection Reference (2nd floor) HD9321.3 .C43 2012
Publication Date: 2012
Lists stores, companies, executives and buyers in the chain food store market in U.S. and Canada.